Gas Testing and Evaluation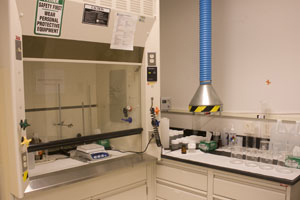 At SRD, we specialize in gas testing and product/sensor evaluation. This requires not only a laboratory that features state of the art equipment, but a multidisciplinary professional staff as well. The in-house testing and validation group has been creating unique solutions to gas delivery of low volatile, low vapor pressure compounds since 1993 and can handle your testing and evaluation needs. SRD can also deliver changing interfering backgrounds, rolling and vertical chemical profiles, Gaussian and non-Gaussian target chemical gas delivery as well as constant and changing environmental backgrounds (temperature, relative humidity). SRD's four primary capabilities for testing and evaluations are:
Gas Delivery and Validation of toxic industrial chemicals (TIC's), toxic industrial materials (TIM's), and chemical warfare (CWA's) simulants for the sensor and detector market
Independent 3rd party evaluation of chemical analytical equipment
Repeatable and consistent delivery of low vapor pressure compounds at low concentrations (e.g. MeS ppb levels)
Simultaneous, multiple target gas delivery with individual gas validation
Validation of all delivery systems is key to accurate and informative decision-making. Validation frequency at SRD is guided by the customers needs as well as the requirements demanded by the testing protocol. All delivery systems and testing protocols are verified prior and after testing and if possible during testing. The following is a partial list of the laboratory instrumentation that SRD currently has:
Three GCMS with multiple column and sampling choices

Solid vaporization for MS determination
Direct injection of vapor samples
Sorbent tubes
Auto liquid injections for multiple validation testing

Continuous stand-alone MS detection of trace gases
GC TCD/FPD (tandem) for analysis of general inorganic gases and trace levels of phosphorous and sulfur target chemicals
GC PID/FPD with purge and trap or trace analysis of aromatics and phosphorous compounds
Custom FTIR instrumentation for analysis of functional groups
Raman spectrometer for several application
Many more!
More information can be found about our facility here.
At SRD, we provide you with a laboratory that you can count on. We deliver accurate and reliable test results, possible root cause issues, and open honest evaluation on your prototypes or products. SRD has field and laboratory experienced PhD Scientists and Engineers coupled with analytical specialists that will assist in solving your problems at both prototype or design stages or all the way to your product for market.
For more information, please contact us.