GDMS AP6Ce Gas Delivery System Wins Gold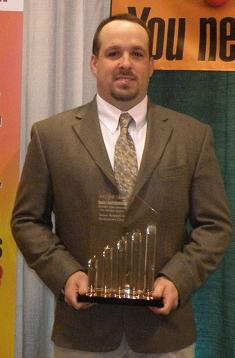 SRDs GDMS AP6Ce Advanced Gas Delivery and Mixing System was selected as Gas and Instrumentation's 2010 Golden Gas Award Winner in the Gas Delivery Systems category during a ceremony held at the 2010 Pittsburgh Conference (Pittcon) in Orlando, Florida.
Judged against a wide field of highly competitive products, the GDMS AP6Ce garnered the award due to it ability to: solve an important challenge to the gas industry; its technological innovativeness; its environmental "green" attributes as well as the GDMS AP6Ce's superior specifications in terms of power requirements, speed, footprint, maintenance and cost effectiveness.
Paul Nesdore, G&I's Publisher/Editor stated that, "This is the finest array of products we have ever seen. Our judges, representing decades of experience in all aspects of gases technologies, had a difficult time, as the products entered represented the cutting-edge of gases technology and implementation."
We at SRD are honored and extremely proud to have the GDMS AP6Ce Advanced Gas Delivery and Mixing System recognized by the industry as a superior scientific instrument.
Mr. Brent Marquis, SRDs Director of Science and Technology (picture), accepted the award on behalf of the company during a Pittcon 2010 ceremony.