SRD Researcher Advances Renewable Energy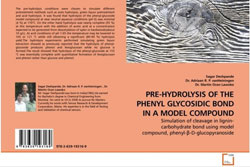 Sensor Research and Development Corp. is proud to announce the publication of one of our researchers, Mr. Sagar N. Deshpande. Mr. Deshpande's new book "Pre-Hydrolysis of the Phenyl Glycosidic Bond in a Model Compound" scientifically quantifies, for the first time, cleavage during the wood extraction process. This break through is a significant advancement in the study of ethanol bio-fuel extraction from wood products as well as efficiency improvements to current wood pulping processes.
Renewable energy is considered a critical component to long-term security, economic growth and responsible environmental stewardship. Ethanol derived from wood could prove to be a viable source of this renewable energy meeting our future needs.
Mr. Deshpande's book has been published in English, Polish and German and is available from www.amazon.com , www.amazon.co.uk and books on demand www.bod.ch .
A native of Bombay, India, Mr. Deshpande earned a Master's in Chemical Engineering form the University of Maine. As part of SRD's research team, he advances chemical sensor technologies and applications by developing analytical validation methods for gas delivery and sensor performance.
Congratulations Sagar!